Meet the Tenant of AFAS Artivity Studio #6: Stewart Knight with collaborator Sarah Hensley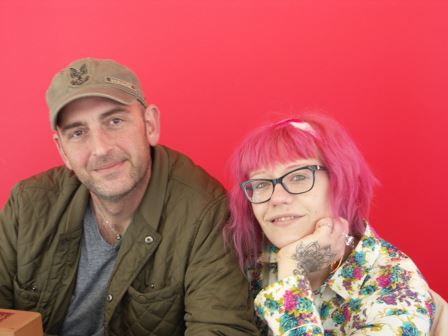 Stewart Knight is a self-taught artist who has worked in art since he was 13, by selling sketches on the school bus and creating art for
newspaper advertisements. He paints Post-Modern Abstracts using acrylics, spray paint, inks, and mixed media. Stewart up-cycles: he
takes people's junk and makes it into treasure. Stewart also does album covers, T-shirts, murals, and commissioned work. He has painted
murals on the side of the Miller Building on Trade Street, on The Famous Toastery on Liberty View Court, at Artivitiy on the Green (park)
on Liberty Street, and in one of the AFAS Center for the Arts restrooms. He has paintings in AFAS Public Art installations, and has built
manikins that are displayed on top of buildings on Trade Street. Stewart also teaches art at AFAS Saturday Art Jams, the Downtown Middle
School, Novant Outreach, and Anthonys Plot Community.
Stewart's advice to burgeoning artists: you need to paint a lot, create works all of the time.
Stewart found that the two diffused lighting walls of his studio took some getting used to, but says it is really nice. It helps when
working with color combinations. Stewart has no particular set hours at his studio, but can be found there or in the AFAS Center for the
Arts Building at most times day or night since he is the Building Superintendant.
Stewart is sharing his Studio with Sarah Hensley, who is another self-taught artist. Sarah has been creating art since she was old enough
to hold a crayon in her hand. Sarah works in acrylics, creating bright and colorful pop art. She is a muralist who favors unconventional
portrait work. Some of her murals are on The Brewer's Kettle in Kernersville, the Silver Moon parking lot on Trade Street, and inside one
of the restrooms of the AFAS Center for the Arts building on Liberty Street. Sarah volunteers in the Red Dog Gallery and with the Saturday
Art Jam.
Sarah loves the energy she finds being around creative people, and likes to bounce ideas off other AFAS artists. She likes challenges,
and finds that weird stuff makes things interesting. She doesn't have a set studio schedule, but you can find her in the Red Dog Gallery
on Tuesdays and Wednesdays.