AFAS Artist Register for an Event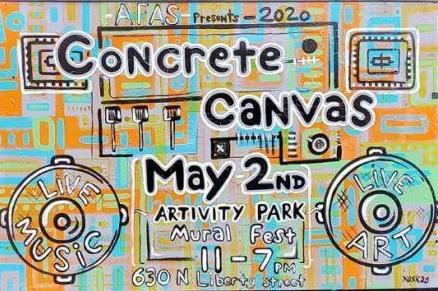 Concrete Canvas 2020 Arts and Music Festival
Date of Event: 05-02-2020
Start TIme: 11:00 AM
End Time: 07:00 PM
First Festival for 2020
Saturday May 2, 2020
From 11 am - 7 pm
At Artivity on the Green and Liberty Street in the Arts District, Winston-Salem
We will have muralists painting the back wall in the park, the wall of the Gargae building and the short wall in front of the Red Dog Gallery.
Muralist starting at 10 am
DJ music starts at 11 am
Live Music starting 12-1 pm
and going until 6-7 pm
Awesome local artists selling their works from 12-5pm on Liberty Street
Food Trucks will be set-up for service at 11 am
FREE to the public!
Kids corner
Like us on facebook "Artivity on the Green" and "Arts for Arts Sake" to keep up with all the lasted plans!
Food
The Big Mouff Cheesesteaks will be on-site with all its goodies!
Stop by and get some hot dogs from Big Daddy Dawgs.
Cool off with some great chilly goodies from Kona Ice.
Need a more adult drink to keep you cool while shopping with artists, watching the muralists and listening to tunes? We have you covered. Fiddlin' Fish will be at the park pouring 2 of their awesome brews!
Muralists and Music
The line-up of live bands playing are listed below. Come listed to some cool tunes, watch the muralist paint and do some shopping with local artists.
Creatio
Moon Weedz
TheWoodhead Bob
DJ Growley
The line-up of muralists have been confirmed. Take a look at this list of awesome talent who will be making some magic happen on the back wall of the park!
Dumptruck Junior
Corey Williams
Caro Lara
Owl
Arko
Abstract Dissent
Joey Allen
Johnny Brown
CAVE
Raman Bhardwaj
Jag One
Karen Britton and her daughter will be painting a new mural on the knee wall outside Red Dog Gallery.
Donell Williams will be painting the ARTC Theatre signage with comedy and tragedy. We will also be painting the wall of the ARTC Theatre next to the AFAS Center for the Arts building.
Artists - click picture for full screen view